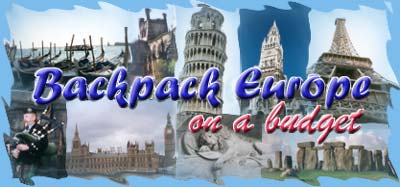 "The best Web site for backpackers is BackpackEurope.com"
Washington Post
"Definitely the first site you should visit if you plan to 'pack it' across Europe."
Arthur Frommer's Budget Travel Online Daily Newsletter
Welcome to Backpack Europe on a Budget! You should find everything you need here to start planning your backpacking or budget trip to Europe. Traveling is my passion and I'm here to share my first-hand travel advice with you.
Please try to read the different sections of this website because you will find most the answers to your questions right here. The Travel Tips section is particularly helpful!
We also have an active Forum/Bulletin Board here for you to interact with others, so you can get other opinions and recommendations from other experienced travelers.
Good luck and Happy Travels,
Kaaryn Hendrickson
Backpackeurope.com Website Developer
All rights reserved Backpack Europe on a Budget 1998-2015.